Let It Fly EnergyHong Kong© 2012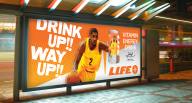 Sparking New Life into the Asian Energy Drink Market
The Let It Fly Energy, or L.I.F.E., line of energy drinks is the healthy alternative energy drink for athletes. With success growing in the United States, the brand wanted to launch in other global markets – starting in Hong Kong. With ambitious aspirations, L.I.F.E. reached out to BaseCreate to conduct competitive analysis, brand strategy, brand identity and a brand book.
We established a new localized brand position centred on the concept of "way up positivity," a slang term that resonates with the basketball-playing community in Hong Kong.
Through several rounds of qualitative focus groups, clearly defined values helped launch the brand, starting with a new L.I.F.E. logo designed to be boldly in motion. Furthering associations with basketball, orange was chosen as the brand colour to highlight the energetic nature of the brand and the lifestyle it offers.
Packaging drew inspiration from the energy it contained. Sitting alongside notable energy drinks, we knew that packaging needed to pack a strong visual punch that would differentiate it from the rest. Focusing on its identity as "for athletes" and a healthy alternative, several designs were drafted, tested qualitatively and prototyped featuring bold colours, silhouettes of basketball players and images of heartbeat lines.
BaseCreate
15/F The Hennessy 256 Hennessy Road Wan Chai, Hong Kong
BaseCreate
Cloudeau, Ozolles 71120 Saône-et-Loire France
BaseCreate
Duesseldorfer Strasse 181 40545 Duesseldorf Germany
BaseCreate
Base Creative, 43 Appleton Lane, 3287 Hamilton Auckland, New Zealand